Dates in History
February 2007
is
Black History Month

February Dates in Women's Herstory
brought to you by Susan Butruille edited by
EducatingJane.com
Feb 1 Wives' Feast, Ireland. Women homemakers celebrate their work by sharing lavish feasts with one another.
February 2 Feast of the Triple Goddess Brigid, Ireland; Imbolc (time of the first ewes' milk). Healer, fire tender, and poet, Brigid welcomes the first hint of spring.
February 3, 1821 Birth of Elizabeth Blackwell, first certified woman doctor.
February 4, 1913 Birth of Rosa Parks, whose protest at giving up her seat on the bus simply because she was black, sparked the 1960s Civil Rights movement.
February 4, 1921 Birth of Betty Friedan, whose book The Feminine Mystique triggered the third wave of feminism in the US.
February 9, 1944 Birth of Alice Walker, African American activist and Pulitzer Prize novelist, author of The Color Purple.
February 11, 1858 The Virgin Mary is said to have appeared to the peasant girl Bernadette Soubirous in Lourdes, France.
February 14 St. Valentine's Day, festival of love, named after an obscure Christian saint. The festival's roots are in the Roman Lupercalia, when young women would put their names on papers in a box for young men to draw as their partners.
February 15, 1820 Birth of Susan B. Anthony, who in 1850 teamed with Elizabeth Cady Stanton to lead the movement for woman suffrage and women's rights for the rest of their lives. Called the "Napoleon of the women's rights movement," Susan B. went to trial for voting as a US "citizen" in 1873. Her last public words were "Failure is impossible."
February 17, 1914 Birth of Julia De Burgos, Puerto Rican poet and journalist.
February 18 Festival of women as cultivators (Persian).
February 18, 1934 Birth of poet and essayist Audre Lorde.
February 19, 1942 120,000 Japanese-Americans were taken from their homes and sent to internment camps.
February 20, 1805 Birth of abolitionist and writer Angelina Grimke Weld.
February 21, 1936 Birth of Barbara Jordan, African American legislator, teacher, lover of the law.
February 25, 1896 Birth of Ida Cox, jazz pioneer who wrote and sang "Wild Women Don't Have the Blues."
February 27, 1897 Birth of Marian Anderson, African American singer and humanitarian.
February 28, 1797 Birth of Mary Lyon, founder in 1837 of Mt. Holyoke Female Seminary, the first women's college.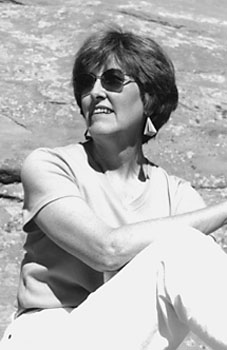 Susan Butruille
Photo by R.E. (Griff) Greffenius

Books
by Susan G. Butruille