Dates in History
September Dates in Women's Herstory
brought to you by Susan Butruille
September is Latina/Chicano Heritage Month.

September 1 Mediterranean Festival of First Fruits.
September 2, 2002 Labor Day, first observed on September 5, 1882 in New York City and led by Irishman Peter McGuire, had its roots in the labor exploitation of the Industrial Revolution. In 1887, Oregon became the first state officially to recognize Labor Day.
September 2, 1838 Birth of Queen Lili'uokalani, last sovereign of Hawaii, held under house arrest and forced from her throne by Americans intent on exploiting Hawaiian exports.
September 6 Day of Tonan, or Tonantzin, Aztecan mother goddess whose shrine was on Tepeyac Hill in what is now Mexico City, where the Virgin of Guadalupe is said to have appeared to Juan Diego in 1531.
September 6, 1860 Birth of Jane Addams, first American woman to win the Nobel Peace Prize (in 1931), first president of the Women's International League for Peace and Freedom, and founder of Hull House in Chicago.
September 6, 1870 Louisa Ann Swain of Laramie, Wyoming celebrated her 70th birthday by voting -- the first woman officially to cast a ballot in a US national election.
September 7, 2002 Rosh Hashanah, Jewish New Year.
September 8 Feast of the nativity of the Virgin Mary, observed by Christians since the mid-fifth century. It is the major national holiday on the island of Malta.
September 9, 1834 A mob attacked Prudence Crandall's school in Canterbury, Connecticut, where she taught black women. Previously jailed for breaking the local law against teaching "colored persons," Crandall finally was forced to close her school. Now it is a museum that highlights black history and women's history.
September 11, 1877 Birth of Rosika Schwimmer, Hungarian pacifist, suffrage leader, and a founder of the Women's International League for Peace and Freedom and Campaign for World Government (1937). She was denied US citizenship in 1929 because she refused to pledge to bear arms in defense of the US.
September 12, 1867 Birth of Irene Joliot-Curie the daughter of Pierre and Marie Curie, she received Nobel Prize in Chemistry for 1935.
September 14, 1728 Birth of Mercy Otis Warren, who thumbed her nose at the British and wrote much of the history of the Revolutionary War.
September 14, 1879 Birth of Margaret Sanger, who thumbed her nose at the Comstock Laws (forbidding distribution of birth control information), and landed in jail. She founded what is now Planned Parenthood.
September 16 Mexican Independence Day, commemorating 1910 revolution ending dictatorship.
September 16, 2002 Yom Kippur, Jewish Day of Atonement
September 18, 1889 Jane Addams, Nobel Peace Prize winner, and Ellen Gates Starr, who linked art and labor causes, opened Hull House to help immigrants in Chicago.
September 19 International Day of Peace.
September 22 Autumnal Equinox. Beginning of nine days of the Eleusian rites, beginning with a procession from Athens to Eleusis. The festival honors the cycle of life and celebrates the ancient Divine Trinity -- Demeter (Goddess of the Earth), Kore (Goddess of the Underworld), and the child Iaccus.
September 22, 1692 Martha Corey and seven other convicted "witches" were hanged in Salem, Massachusetts following a trial presided over by the state's lieutenant governor. Eleven people -- mostly women -- already had been murdered as witches after being fingered by hysterical girls. Some years later trial judges allowed as they had made a mistake.
September 25 Day of Sedna, sea goddess of the Arctic Inuit people.
September 25, 1847 Birth of Vinnie Ream, who became a prolific sculptor. She was 17 when she received a $10,000 commission to carve the exquisite statue of President Lincoln that now stands in the US Capitol Rotunda. A replica of Vinnie Ream's "Sappho" stands as a memorial to her in Arlington National Cemetery.
September 30, 1983 Sally Ride rode into space -- the first US woman to do so.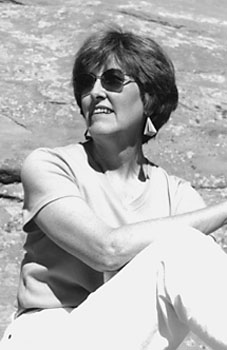 Susan Butruille
Photo by R.E. (Griff) Greffenius

Books
by Susan G. Butruille