Dates in History
August Dates in Women's Herstory
brought to you by Susan Butruille
August 6, 1926: Gertrude Ederly became the first woman to swim the English Channel, breaking the previous record by two hours. A ticker-tape parade in New York honored the young woman who wasn't yet twenty years old.
August 6, 1945: The U.S. atomic bombing of Hiroshima, Japan.
August 8: Birth of the Virgin Mary celebrated.
Aug 12, 1867: Birth of Edith Hamilton, acclaimed scholar of Greek and Roman literature.
Aug 13, 1818: Birth of Lucy Stone, feminist, abolitionist and suffragist who insisted on keeping her own name in marriage. She inspired the title of "Lucy Stoner," applied to other women who kept their names.
August 13: Festival of Diana (protector of the living) and Hecate (protector of the dead), forerunner of the Feast of the Assumption of the Virgin Mary.
August 15: Feast of the Assumption of the Virgin Mary, celebrating the ascension of Mary into heaven. A continuation of ancient feasts to the female deity in her Mother aspect.
August 15: Festival of Isis, when stalks of grains are carried in procession to honor her as Grain Goddess.
August 19, 1814: Birth of Mary Ellen "Mammy" Pleasant, who as a former slave helped thousands of slaves escape to freedom in Canada. She migrated to California, where she sued a streetcar company for discrimination and fought for the rights of Black people.
August 23: Festival of Nemesis, Greek Goddess, protector of relics and memory of the dead. [The History Goddess]
August 26, 1920: Women's Equality Day, when the states ratified the woman suffrage (19th) amendment to the U.S. Constitution, after 72 years of struggle. Many women devoted their adult lives to the cause, and many were jailed and force-fed [during starvation protests] for demanding this basic [American] human right.
August 29: Festival of the nativity of the Egyptian Goddess Hathor.
August 29, 1957: The U.S. Congress passes the Civil Rights Act.
---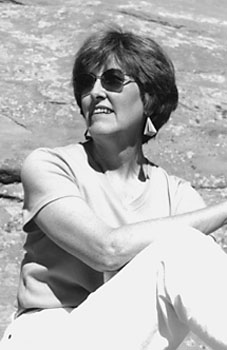 Susan Butruille
Photo by R.E. (Griff) Greffenius

Books
by Susan G. Butruille