Dates in History
Important Dates in Women's History
by Susan G. Butruille

March is Women's History HerStory Month!
March 1 Matronalia, Roman celebration of women and celebration of Juno-Lucina, protector of women and the family. Temple fires welcomed the coming of spring.
March 1, 1864 Rebecca Lee of Boston, MA became the first African American woman to earn a medical degree.
March 2 Roman festival of Vesta, Goddess of purifying fire. Vestal virgins were independent women who were priestesses of Vesta. The ancient meaning of "virgin" was "one within," signifying an independent woman.
March 3 Hina Matsuri, Japanese Doll Festival, dedicated to the three Munakata goddesses, daughters of Amaterasu, the Sun.
March 4 1933: Frances Perkins is sworn in as Secretary of Labor, first woman in U.S. cabinet.
March 4, 1917 Peace activist and suffragist Jeanette Rankin became the first woman elected to the US House of Representatives.
March 7, 1870 Wyoming women allowed on juries; the right later was taken away until the 1950s, when women once again were admitted to serve.
March 8, 1908 First International Women's Day, founded by German labor activist Clara Zetkin.
March 9 Holi (Hindu), spring festival dedicated to the god of pleasure.
March 10 Mothering Day (England), the original Mother's Day. It was the custom to visit one's mother on this day and present her with bread and presents.
March 10 Hypatia's Day, honoring the scholar of the University of Alexandria. A pagan, Hypatia was murdered by a mob of monks because she was a woman who taught men.
March 10, 1913 Death of Harriet Tubman, Underground Railroad conductor who rescued more than 300 of her people from slavery.
March 12, 1993 Janet Reno became the first woman US Attorney General.
March 20, 1925 Birth of Romana Banuelos, first Mexican American woman to serve as US Treasurer.
March 22, 1972 Equal Rights Amendment passed by Congress and sent to states for ratification.
March 25, 1911 Triangle Shirtwaist Factory fire in New York City. Nearly 146 workers died, mostly immigrant women. Many were trapped because of locked exits.
March 30 Feast of Eostra, German Goddess of rebirth and fertility. This festival inspired the Christian Easter.
Mar 31, 1776 Abigail Adams wrote her famous "Remember the ladies" letter to her husband, John, urging him to include women as he helped construct the US Constitution. He didn't.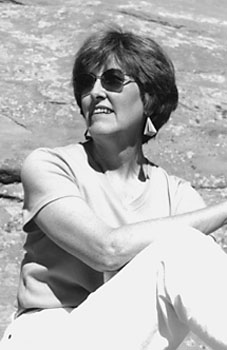 Susan Butruille
Photo by R.E. (Griff) Greffenius

Books
by Susan G. Butruille