Dates in History
Herstory
November
is
American Diabetes Month
National American Indian Heritage Month
Child Safety and Protection Month
November Dates in Women's Herstory
brought to you by Susan Butruille and EducatingJane.com

According to legend, Charley Parkhurst, a California stagecoach driver who dressed as a man, became the first woman in the world to vote in a presidential election. Nov 1, 1872 Susan B. Anthony registered to vote in Rochester, New York. On November 5, she was arrested for attempting to cast a ballot. Nov 1, 1811 writer Miriam Berry Whitcher was born.
Nov 1, 1858: Nurse and educator, Mary Nutting Adelaide was born.
Nov 2, 1970 Bella Abzug elected to U.S. Congress (politician, co-founder of the National Women's Political Caucus)
Nov 9, 2005
Election Day. Honor your suffrage foremothers by exercising your right and privilege to vote!
Nov 4 1965 Dickey Chapelle was killed by a land mine in Vietnam. She as the first woman war correspondent killed in combat.
Nov 7, 1893
After a long struggle, Colorado became the second state after Wyoming to grant lasting woman suffrage.
Nov 11, 1992 Church of England General Synod votes to accept women as priests
Nov 12, 1815
Birth of Elizabeth Cady Stanton, co-organizer of the first women's rights convention in Seneca Falls, NY. She went on to form an alliance with Susan B. Anthony to continue the fight for women's rights until both died, still denied the right to vote.
November 8-14, 2003
World Kindness Week
Nov 13, 2003 World Kindness Day
Nov 14, 1917
"The Night of Terror." one of the occasions when suffragists were imprisoned and brutalized after picketing the White House demanding the right to vote.
Nov 17, 1637
Anne Hutchinson was banished from the Massachusetts Bay Colony for defying the men of religion.
Nov 17
Feast of St. Hilda, patron saint of business and professional women.
Nov 23, 1921
Passage of Sheppard-Towner Act, providing federal funds to states for instruction in maternity and infant care, under the leadership of Julia Lathrop, first head of the Children's Bureau, with huge efforts from women's organizations.
Nov 25
Women's Merrymaking Day in ancient times.
Nov 26, 1883
Death of Sojourner Truth, Black human rights activist and suffragist.
Nov 25
Thanksgiving Day.
Nov 28
Day of St. Sophia, Goddess of Wisdom.
Nov 29
Feast of Egyptian Goddess Hathor.
Nov 30
Day of Mawu, African Creator Goddess.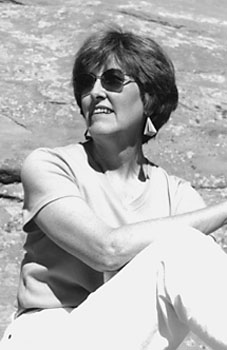 Susan Butruille
Photo by R.E. (Griff) Greffenius

Books
by Susan G. Butruille