Dates in History
October
is
Child Health Month
World Aids Awareness Month
DOMESTIC VIOLENCE AWARENESS MONTH
BREAST CANCER AWARENESS MONTH
October Dates in Women's Herstory
brought to you by Susan Butruille
October 4, 1887 Birth of Miriam Van Waters, University of Oregon graduate and prison reform advocate. As superintendent of the Massachusetts Women's Reformatory in Framingham, Dr. Van Waters pioneered in rehabilitation of young female "delinquents," many of whom were imprisoned for "sexual offenses," and regarded as "morally insane."
October 5, 1904 With $1.50, Mary McLeod Bethune opened what became Bethune-Cookman College, later founded the National Council of Negro Women and worked with Eleanor Roosevelt to advocate for African Americans.
October 5, 1905 "Abigail Scott Duniway Day" honoring the famous Oregon suffragist at the Lewis and Clark Exposition in Portland.
October 11, 1884 Birth of Eleanor Roosevelt, First Lady who became her husband's public representative, a voice for women and minorities, international peace advocate, United Nations delegate, and primary author of the 1948 UN Universal Declaration of Human Rights.
October 12, 1492 America "discovered" Columbus.
October 16, 1891 Death of Sarah Winnermucca, leader of the Paiute people who tried to make the US government keep its treaties. It did not.
October 16, 1992 Mayan Indian Rigoberta Menchu won the Nobel Peace Prize for human rights work in her native Guatemala.
October 16, 1916 Labor leader and nurse Margaret Sanger opened her first birth control clinic in Brooklyn for which she was jailed for violating the Comstock Act, which prohibited distribution of contraceptives. She went on to found the American Birth Control League, which later became Planned Parenthood.
October 17-23 Teen Read Week
October 21, 1824 Birth of Abigail Scott Duniway, Oregon Trail pioneer, newspaper editor, lecturer, feminist and suffragist.
October 24 United Nations Day.
October 25, 1774 Penelope Barker organized a group of women who boldly signed a public declaration supporting the Continental Congress's defiance of British rule -- a dangerous act which nevertheless brought ridicule in British newspapers.
October 29, 1966 Founding of the National Organization for Women.
October 31 Hallowe'en. Eve of All Souls Day, All Saints Day (Christian), Day of the Dead (Mexico). Leave food offerings for fairies and ghosts on this night or they may lead you astray.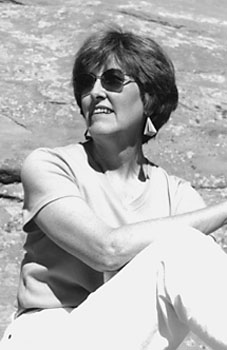 Susan Butruille
Photo by R.E. (Griff) Greffenius

Books
by Susan G. Butruille